Musk announced a stock buyback, pumping up Tesla bulls around the world as the company looks for stability following a settlement with the SEC. Investors may be getting excited about the news, but there's still some things to be wary of moving forward. Will this $20 million injection from Musk be the catalyst for Tesla's next rally? It's certainly possible, but we should also look at why it probably won't be enough all on its own.
It's official - marijuana is legal in Canada, and that means big things for the highly popular "pot stocks" that now populate the portfolios of adventurous investors. As analysts fight over whether the cannabis industry will boom or bust on the news, there are a few important concepts that all investors (even if they don't hold pot stocks) need to consider now that marijuana is a legal substance in America' neighbor to the north.
These 6 Pot Stocks Are Set To Soar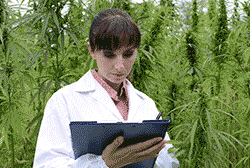 Not long ago, this one little pot stock was 13 cents a share.
Then this stock traded around $35 a share… and it could go even higher in the coming days.
Why?
Because of a massive, once-in-a-lifetime opportunity for investors.
In particular, we've identified 6 "pot stocks" that are set to soar the next time marijuana laws change, which will be SOON.
The wild west of cryptocurrency is coming to a Wall Street brokerage firm near you. Fidelity announced the launch of Fidelity Digital Asset Services on Monday, a new company within the Fidelity family devoted exclusively to cryptocurrency services, including custody (holding coins) and trading specific crypto assets. For the first time ever, a major Wall Street player will be offering crypto trading and "banking" services to its 27 million customers. That is a significant event for the future of this new asset class. But what does it mean for you as an investor? And what could it mean for the cryptocurrency space in general?
Elon Musk certainly has a penchant for making headlines, doesn't he? The latest comes as Tesla scrambles for cash (the company doesn't have) in order to pay off $1 billion in debt. Even worse? Current liabilities exceed company assets by a wide margin. If Musk can't get his ducks in a row soon, an SEC settlement will be the least of his problems.
With Sears Holdings Corp toeing the line of bankruptcy over the last few days, lenders are now applying pressure to liquidate while the retailer scrambles to find cash. Things aren't looking so good for Sears, nor their investors, but a few bears who own put options on SHLD shares could approaching a major gain in their near future.