Markets printed a massive green candle Wednesday after Fed Chairman Jerome Powell partially walked back his October 3rd statement, where he noted that interest rates were "far from neutral." That stance has now been revised, with rates "remaining just below the broad range of estimates of the level that would be neutral for the economy." And that tiny tweak was enough to send markets soaring and bears roaring in mortal agony. The Nasdaq was up almost 3%, the S&P was up 2.3%, and the Dow Jones shot up 617 points for a 2.5% gain. All in all, it was one heck of a rally after a brutal November. With the Fed out of the way for now, all eyes are have turned to Buenos Aires, where President Trump and his counterpart Xi Jinping of China will attempt to hash out a trade deal and push stocks into bullish territory for the year.
Bulls were peeking their heads out of their fox holes earlier this week as news of a potential trade deal between China and the U.S. (along with reports of a possible floor in place for crude oil) seem to have eased recession fears. That's the good news, anyway. The bad news is U.S. stocks could quickly break to the downside if the events of the next few weeks turn ugly. At least four high-profile decisions will be made in December that will have significant impact on global markets in 2019. Depending on how those pan out, we could either see new highs for most indexes, or the end to the second-longest bull market in American history.
These 6 Pot Stocks Are Set To Soar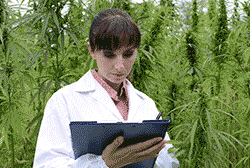 Not long ago, this one little pot stock was 13 cents a share.
Then this stock traded around $35 a share… and it could go even higher in the coming days.
Why?
Because of a massive, once-in-a-lifetime opportunity for investors.
In particular, we've identified 6 "pot stocks" that are set to soar the next time marijuana laws change, which will be SOON.
General Motors caused an uproar among unions and politicians on Tuesday after announcing plans to shutter up to five of its Midwest auto plants and cut more than 14,000 jobs in both Canada and the U.S. The United Auto Workers (UAW) union along with both President Donald Trump and Canada's Prime Minister Justin Trudeau piled on in condemning GM for its "callous" and "deeply disappointing" behavior. Despite immense pressure on GM's CEO Mary Barra to walk back the layoffs, the company is going forward with the move in the hopes of saving more jobs down the line.
Facebook was once again at the center of a controversy-fueled firestorm last week, as British Parliament tried gathering data from an app developer related to Facebook's ties to Cambridge Analytica. Indeed, the same very same Cambridge Analytica that was hired by Ted Cruz's and Donald Trump's campaigns is still causing headaches over at the Facebook campus. And unless the company can reestablish trust fast, there could be more downside to go for share prices before we hit rock bottom.
Toys-R-Us, the iconic children's toys and clothing store that had once boasted over 800 stores and 64,000 employees in the U.S., was forced to liquidate in June of this year, sending some of the largest retail players – Walmart and Target among them – scrambling for its business. Well, the early numbers are coming in from Black Friday, and we may have a definitive answer as to who scalped the most business away from Geoffrey the Giraffe. If these estimates play out like we think they might, there may be some very strong buying opportunities in retail for the remainder of this year.