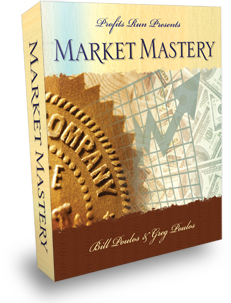 When it comes to stock trading education, there is no training course out there more comprehensive than our Market Mastery system. This is our premium stock trading course that once completed, is just like earning a Masters Degree in stock trading.
This training system was carefully designed so that both veteran traders and new traders can easily use this system profitably. People trading for the first time will be taught every single aspect needed to trade the markets… from how to place a trade, all the way up to advanced techniques. Veteran traders on the other hand will be able to fast forward though the basics and easily jump into the "meat" of the methods. So no matter if you've been trading for decades or never placed a trade before, you'll be able to take full advantage of the profit potential built into each and every method in the course.
The Market Mastery system is in essence a two-part product. The first part consists of the Trade Alert Software. This ultra-powerful software first of all has a "fast filtering" function where you can drill down though the thousands of stocks out there and have only the best of the best stocks hand delivered to you on a daily basis.  That way you have a short list of only the premium stocks out there that are poised to move in a deliberate, profitable direction.
Now once you have your short list of superstar stocks, the trade alert software will constantly monitor the markets for you and send you an alert (via email, on your computer, or even via your smart phone or tablet) when one of those stocks is about to move. Each alert will contain everything you need to place the trade. You'll know whether to buy or sell, at what price to get in, where to set your protective stops and when to take a profit. Plus the software is so intelligent that it has the power to adapt to market conditions, giving you updates as the price actions move, keeping you in the money as long as possible… all the while reducing your risk the entire time. Lastly, this software runs 100% independently, so you can use it with any broker and any trading platform, and it's been optimized to compliment any current systems you happen to be using.
The 2nd half of the Market Mastery system is the home study course. While you can easily just follow the alerts sent by the trade alert software and do quite well, this home study course is what separates the followers from the Independent Traders. Multiple instructional DVDs, training manuals that annotate each and every trade example, blueprints, and quick start guides… the works. You see, unlike most trading systems out there, Market Mastery fully discloses all of the parameters behind the methods that drive the software. There are no "black boxes" here! Everything is explained in plain, easy to understand English so you can see how and why the software does what it does. This total transparency is one of the many things that make Market Mastery so unique. Once you learn the materials inside out, you'll have that education for life… which is a powerful thing!
If you want to see the Market Mastery system in action, just watch the video below, or go here to give it a try.

Follow this link for more information on our premium stock trading program
[shareaholic app="share_buttons" id="14873991"]